Before introducing the popular collection of Casio G Shock watches sold online, we must give a brief history description about the origin of G-Shock.
So, let start with a video, after watching, you will know how tough the G Shock is, and how many strict tests it has passed.
Best-selling Sports Watches at Aliexpress.com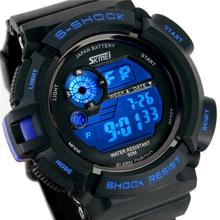 G-Shock origin
Since 1983, G-Shock has occupied an irreplaceable position among the happening men due to its innovative and shockproof design as well as powerful functions. In the movie Speed, Keanu Reeves wore the DW-5600, which has become the representative of many classic G-Shocks. Today, G Shock continues its shockproof legend while accompanies our growth.
In 1981, Ibe kikuo, who was 28 years old and an staff in Casio R & D department, broke the watch which his dad gave to him in high school, so he decided to research the shock-resistant function of the watch. His test site at that time was Casio's office, which was just 10 meters high in the third floor, after successful development, he thought that the watch could resist the impact from gravity, so the name of the watch got the first letter "G" of gravity plus "SHOCK". From the first G-Shock watch in 1983 to nowadays, G-Shock has established their own pop culture and also developed a variety of different styles.
The design concept of G Shock comes from a simple belief: creating a watch never broken. It is not difficult to manufacture a unbreakable case, but the problem is that the movement and LCD screen are all fragile, after being hit, the impact force will be spread to various interior parts of the watch.
Then, Casio organized a team named "TOUGHNESS" to specialize in the study. They set three "10" targets: 10 years of mechanical life, 10 meters of water resistance and 10-meter drop shock resistance. The first two targest were all completed while the last one 10-meter free ball test failed.
Later, Casio designers took inspiration from rubber ball game. Imagine a rubber ball or a softball, when you tried to hit, the rubber part absorbed all the impact force. If you could set the watch parts "floating" in the ball and make it not touch the ball, then these parts would be protected. Certainly, it is not easy to do that, after two years of numerous tests, this idea finally became a perfect solution.
In 1983, G Shock was born. Through this innovation, the unique shockproof structure was created, it made the watch have a brand new concept: solid. In recent years, adhering to the "unbreakable" faith, G Shock got continuous innovation. Every detail design took consideration of firmness, G-Shock continued to challenge the new and unknown areas. This attitude not only created a new shockproof structure, but also developed many advanced technology and achievements, including radio and solar technology G-Shock.
See which G-Shock your men will like
Classic: G7900A-4
Casio has been pursuing further improvement of G-Shock Classic watch for years, they take each possibility that could improve detail of their products into consideration. G-Shock Classic watch exactly reflects the steady pursuit spirit and advanced watch-making skills of Casio. The "Shock Resistance", which started from 1983, has been mixed into the design of every G-Shock watch comes out today. Classic is a basic series of G-Shock, I have several styles of G-Shock watches, but in most times I love to wear the Classic, because I think it not only owns the latest technology, but also inherits the traditional design principles, which makes the watch become the signature of G-Shock.
Now, I share my G7900A-4 watch here, I bought it on on eBay for less than $72
, the store owner gives me a great discount and free shipping. I really like the red color, the band also fits my wrist comfortably, read the full G7900A-4 review.
G7900-1
G-Shock watches are highly popular in the military and among general users, it gets a good reputation not only in America, but also in other countries all over the world. G-Shock classic watches are mainly for daily wearing usage, but they have the same toughness and durability as those military watches which Casio has made. That is also the reason why I choose G-Shock. The G7900-1 discussed here is my second G-Shock watch, last year I bought it on eBay for $72
, this time I still chose the Classic G-Shock because the price is really acceptable.
I wrote my personal G7900-1 unboxing review here, the wearing comfort is perfect, it can be a good sports watch but not lack of military style.
RANGEMAN: GW-9400-1CR
Here is the third G-Shock I bought last year, it is GW-9400-1. Like the watches above, I bought GW-9400-1 on eBay for less than $240 with no shipping fee
, the watch is brand new. I bought it as soon as Casio released the RANGEMAN models, I choose the black GW-9400-1, so it will go well with the red G7900A-4 when my wife wearing it.
The RANGEMAN belongs to G-Shock Master of G series, it is more tough and rugged than the Classic series, in my opinion, it is the real military watch, in fact, there is indeed an army green model in the RANGEMAN collection. Followed by the introduction of RANGEMAN, G-Shock now has five series of professional sports watches for divers, XSports players, navigators, pilots and climbing masters, they are FROGMAN, MUDMAN, GULFMAN, RISEMAN and the latest RANGEMAN.
Another reason why I choose GW9400-1 is that besides the Triple Sensor, G-Shock adopted many other breakthrough technologies on this model, you can read the complete specification of GW9400-1 here.
When I first got the watch in hand, the first impression is its surface and overall design are solid. Click here to read the complete review of RANGEMAN GW-9400-1CR.
from gshockus
MUDMAN: G9000-1V
The fourth watch which I like to wear is the G9000-1V, it comes from the popular Master of G MUDMAN series, whose design is inspired by rally, the watch is specially designed to be used in extreme conditions, it is not only the toughest watch, but also has the capacity of shock, mud and water resistance.
The latest G9000-1V inherits the excellent tradition of MUDMAN, each button is protected by resin, which could prevent sand, mud and dust entering into the case. The watch also adopts special anti-fouling design to resist mud, so it becomes the first choice of people who love motorcycling.
The brand-new G9000-1V on eBay
is sold less than $69 now. Can't decide yet? The G9000-1V review may help you confirm your decision.
Classic: GW6900-1
The last watch is the one a man should have. Why do I save it to the end? Because the most important thing usually shows its appearance in the end. Although it belongs to the Classic series as a basic model, GW6900-1 acts as tough as other G-Shock military watches, besides, it owns the best-selling case design of G-Shock, so GW6900 becomes one of the top rated G-Shocks that are highly recommended by members in kinds of watch forums. The calm black color, coupled with the brand G logo, reflects the unlimited Tough spirit of G-Shock. Shock resist, 200M water resistant, GMT, 1/100 seconds chronograph, alarm, date, etc., GW6900-1 has all necessary functions which other G-Shock watches have, which makes it more practical. I bought mine for $80 on eBay
.